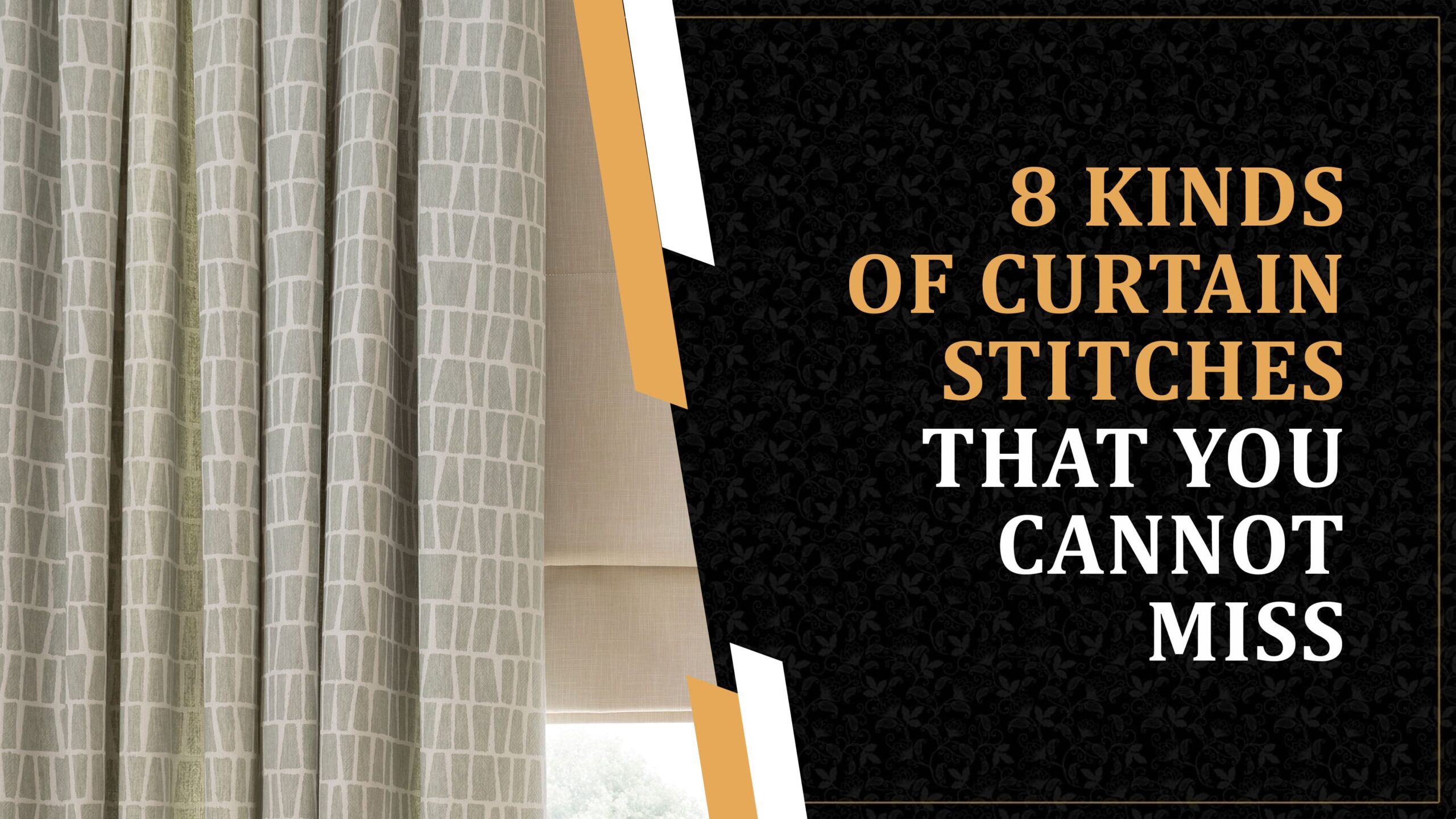 8 Kinds of Curtain Stitches that You Cannot Miss
Good curtains elevate your space and at the same time ensures a great aesthetic vibe. Apart from safeguarding your privacy, curtains are the quintessential element for interior decor and have multifaceted functions. 
The following kinds of curtain stitches are found to be the most effective and popular in terms of India's geographical positioning. When placed correctly, a curtain remarkably affects its functionalities. So, identify the primary purpose before choosing the curtain variation.
Rod Pocket or Pole Pocket Curtain-
A pocket is sewn across the top of the curtain panel through which the curtain rod is inserted. It is the most common and effective curtain that curtails both sunlight and wind. Generally, lightweight or sheer fabrics are most suitable for this kind of curtain.
Since they fit into the casual spaces, you can add an extra layer of curtain to add depth and protection from sunlight and dust. Curtain layering with combination colours will enhance the appearance of the room.
Since the pockets fit across the rod, drawing these curtains can become a little difficult and thus works best for guest spaces and or lounges.
These are the most popular styles of curtains. Using this pattern, you can achieve a modern yet casual minimalist design. Because of the design where the open rings or grommets are placed in the header/support panels, drawing them becomes extremely convenient.
Therefore, this kind finds a great fit inside a patio or bedroom. Lightweight fabrics like cotton, polyester or linen are ideal for Grommet curtains. Choose aesthetically supportive hardware to cover up the rod visible through the eyelet holes.
The tab-top curtains have loops at the top edge of the support panel. The flat eyelets commonly known as hoops can be crafted out of the curtain fabric. Since the fabric can be extended up from the top seam and threaded across the rod, these are an interior designer's best friend. Depending upon the fabric used for the flow and style, these curtains can be easily styled as sleek or fancy embellished loops, tie tops and bow formations.
Since the panels start below the loops, these curtains become a little difficult to operate. They act like a major style quotient and are ideal for accentuating farm houses and cottage themed home decor.
The vintage classic curtain style is an all time favorite for the formal settings. The header tape is sewn to the back of the top panel to form pleats. Hooks are inserted in the header tape across each pleat for hanging. These curtains are made with thicker fabrics and are lined to add stability in the decor. Owing to its intricate pleats, cord-and-pulley systems are used to draw these styles of curtains.
There are a variety of pleated curtains that can satiate your taste and interior requirement.
Pinch Pleats: The most common among all of the pleated curtains. In this style, the fabric is pleated, pinched and stitched at the base for the fabric to flow elegantly below. The pleats can range from two to five fingers; more fingers create a fuller appearance of the curtain. You can make your master bedroom, sitting and entertainment or reading room a major point of highlight.
Box Pleats: Quite a bit of a stylish counterpart of the pleated pattern wherein the fabric is folded inwards to get a box shape. Accordingly, they run deep and uninterrupted across the fabric for a full coverage effect.
Suitable mostly for your classy bedroom, spacious dining halls, living rooms. Highlight these decor with minimalist and sleek elements.
Pencil Pleats: Generally this is a thin, single pattern stitching style that can be used for various types of hooks and curtain rods. They have a casual comfortable appeal and are perfect for an informal evening in the living or the bedroom! Make your space surprise ready with this style.
Goblet Pleats: As the name suggests, this pleat resembles that of a wine glass or a goblet. Since the pleat pattern is quite delicate, the curtains should be drawn with utmost care. Generally, these patterns of curtains are found in high ceiling homes and in formal setups. Since high ceiling homes are quite rare to be found, this style can suddenly make one room look out of place, if not designed aesthetically.
Cartridge Pleats: These curtains show single pleats with a wide space in between two. Though the design resembles that of the goblet pleat, cartridges are not folded but are stitched for a round top. Perfect element for a high ceiling kitchen and large dining halls.
Tuxedo Pleats: These are comparatively large pleats that give the curtain a formal and contemporary touch. Shaped like a tuxedo, these pleats are sewn at the backside of the drapery and hung on fancy curtain rods. They suit best during occasions for designing guest rooms and dining halls.
When you use a single long cloth that hangs in front or side of the window, call it a window scarf. Since it has no specific and elaborate stitching design, it is also known as scarf swag! Just like scarves, they too ornate the window frames and simply hang over the window rod.
Though they are used sometimes, they are not very effective in blocking sunlight or wind. Pair roller shades and scarf swags together for a perfect dose of insulation and stylish privacy. For any studio apartment, this style can elevate a tiny room on a tiny budget.
Just as the name suggests, cafe curtains are no distinctive curtain pleat of folds. They are simply used to cover the window halfway, either at the top or at the bottom.
Mostly, they are custom made to match the length of the divider line present in the window. They are often found to have cartridge pleats that allows them to have an alluring yet informal appearance. These curtains are generally created with opaque fabrics to eliminate light and offer privacy. Bathrooms, kitchens and garden facing windows are the best spots to hang a cafe curtain.
Sheer curtains are gradually becoming a huge trend in the home decor industry. Who wouldn't want to live inside a stylish yet budget friendly home. The fabrics are extremely lightweight and airy. 
Owing to its translucent properties, these curtains do safeguard your privacy. You can easily layer them up with roller blinds or heavier fancy curtains for that extra edge. Don't forget to experiment with contrasting colours while layering.
They are mostly available in white, beige, off-white or neutral colors to match up to the basic tones of the walls. Choose from the plethora of embroidery or foil print textures to add some glamour to your simple rooms. However, they are very effective in providing UV ray protection and can be installed either indoors or outdoors.
The cheapest, easiest alternative for home cooling is here. The thermal curtains are known to block light, provide insulation and dampen sound. The Blackout curtains feature opaque fabric with special foam coating that easily eliminates light and sound.
Since their major function is to eliminate sound and light, they are primarily used in the movie halls, media rooms, lounges and sometimes even in the bedrooms. Apart from these specifications, Blackout curtains are extensively used to cut up heat transfer by as much as 24 percent, thus effective in reducing electricity bills. Get your favorite shade that suits your home decor.
DECOR HARDWARE HIGHLIGHTS –
Take care of the hanging hardware like curtain rod, curtain track and curtain poles. 
For a finished look, use valence and pelmet over the curtain heads. 
Pick the right fabric and colour that will enhance your home decor.
You can even use a curtain as a room separator.